Union Street Bar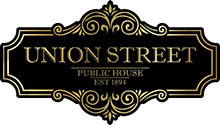 Address:
8 - 14 Union Street
Northern Ireland
BELFAST
County Antrim
BT1 2JF
Telephone:
028 9031 6060
Website:
www.unionstreetbar.com
Email:
The Union Street Pub & Restaurant opened its doors as a bar in December 2003 and the restaurant was launched in January 2004.
The downstairs bar area is bustling in a chilled out kind of way; upstairs quieter for eating, although you can still enjoy the bar atmosphere as it's fairly open plan. It's a renovated old shoe factory, with lots of old brick, wooden floors and beautiful long zinc bar. Fixtures and fittings are tastefully retro with a bit of industrial thrown in - sixties-style chairs, Victorian flushes and Belfast sinks with futuristic taps in the washrooms. At night, there are candles and gas fires to cosy up to. The Victorian pillars still bear the date stamps of when the building was constructed but have been brought into the 21st Century with the addition of LCD screens viewable from anywhere in the bar.
The relaxing ambience is heightened by the not too overbearing euphoric sounds of chillout and funk.
As for clientele, there's a good mix of gay and straight (Kremlin is nearby). It's a funky under 40s crowd at night, but unlike many city centre bars, there's no 'edge'; it's all very civilised with everyone just enjoying a few drinks or a bit of grub.
A charming little spot, very near the Cathedral Quarter and good value for money. It's very un-Belfast in many ways; the guy behind the venture is from New Zealand. But, with good cause, many Belfast folk have already taken it to their hearts.
Union Street Restaurant
The restaurant serves an excellent selection of imaginative and wholesome dishes. The menu is eclectic, ranging from European and Mediterranean through Oriental and Traditional local dishes.
Serving Times
Union Street currently serves food from Monday to Thursday from 12.00pm to 5.00pm, Friday from 12.00pm to 9.00pm and Saturdays from 12.00pm to 9.00pm
Bookings
Booking is not a necessity but is advised during busier periods of for larger parties. Simply call us on 028 9031 6060 and ask our helpful staff.