REVIEW: Shh! We Have A Plan
Date: 18/12/2017
Theatre Review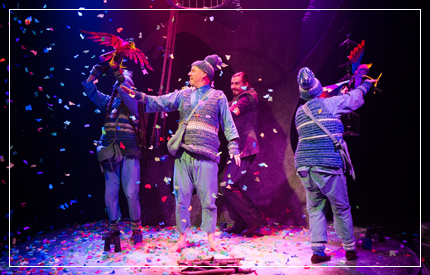 Paul Bosco McEneaney's Shh! We Have A Plan, adapted by his Cahoots theatre company from Chris Haughton's children's book, draws forty-five minutes of top-notch universal entertainment from the simplest of questions: what if nature bit back, and how would we react?
Set in a forest in the middle of nowhere, mainly on what seems to be a small island with a big tree surrounded by rocky stepping stones, it is the craft and liveliness that emerges around and on the big tree that holds the fascination of the characters on stage and the audience of all ages from three years onwards off it.
It begins with the use of a handkerchief, behind which the sparkling illusion of a colourful bird hatching from its egg is created. Then, from the tree, a "leaf" is picked up, from which a (paper, but let's pretend it's real) butterfly emerges.
Assistant stage manager Lorcan Reed - let's call him the "master manipulator", the totally not invisible (but it really doesn't matter) propulsion of the bird's flight - is setting the scene for what we can assume to be, although it's not specified, a family. A group with an obsession for wildlife.
The "father" (Hugh W. Brown), "mother" (Claire Cogan) and "daughter" (Philippa O'Hara) are on a quest, a trail to hunt down whatever they can find in the woods and take home for captivity. And the play will draw most, if not all, of its excitement and innovation from the various items, primarily taken from the daughter's backpack, used to devise the titular plans for the group to try and generally fail to capture animals. Without making much of a sound. (Hence "Shh!")
Butterflies and fireflies are easily captured in jars. But the big bird who isn't so big, yellow and talkative (barring "psst", "shh" and a sneeze, no words are spoken in the play) is a much more complicated, intriguing and exciting challenge for our trio. And downright frustrating too, as no amount of ladders, cages, pulleys, bait and giant unicycles (yes!) are a match for the sense and the smarts of the creature, who knows just when to second guess his or her wannabe captors.
Everything is enlivened with hand movements, props, sound effects and, best of all, choreography and music that bring the group alive in unusual and funny ways, expressions of complacency, intuition, conscience, hunger, sadness and happiness mixing and matching to the rhythm and funk of a Garth McConaghie motif that will remain in your head for hours after the show ends.
There's a lot to love and to learn in
Shh! We Have A Plan
, its characters and maybe audience developing a new found appreciation of nature's beauty and tenacity on a voyage of capture turned voyage of discovery. What is a physical, instinctive battle for flying mammals is an internal, thoughtful one for a human family.
Credit, too, Philippa O'Hara, turning in another superlative Christmas performance. In Cahoots' Pinocchio, last year, her once seemingly dubious Candlewick unexpectedly emerged as a warm-hearted, tragic personality. Here, her initially willing and rather mischievous pawn in a game of "chase and catch" gently succumbs to nature's needs and way, with a wholly believable and poignant change of mind and heart. The joy she feels around the multitude of butterflies that burst around the island is felt by everyone. Proof, perhaps, of Albert Einstein's maxim that "peace cannot be kept by force, it can only be achieved by understanding" in a land where the wild things are, always have been and will stay if they can help it.
Simon Fallaha
Shh! We Have A Plan runs at the Crescent Arts Centre, Belfast, until December 24.

cahootsni.com.
Recent Theatre Reviews
---
---
---
---
---
---
---
---
---
---